St. Luke's Health Plan
July 17, 2022
Your Employees Deserve Great Insurance
Here's how you get it for them.
Idaho's job market is hot. Really hot. Now that 78 percent of businesses offer medical coverage (up from 67 percent in 2013), the competition to stand out is even more fierce than usual. It's not a question of whether you should offer health care insurance, it's a matter of choosing the most attractive plan for potential hires and your hard-working team. No pressure, right? Luckily, picking the perfect plan for your business isn't as daunting as it sounds.
What to Consider When Choosing a Health Insurance Carrier
When it comes to your carrier, it all boils down to options, options, options.
Support through every stage of life.
If you'd like employees to stick around for the long haul, it's best to go with plans that grow with employees from their entry-level days to their pre-retirement years. The St. Luke's Health Plan offers multiple coverage tiers suited to every stage of life. From low-cost deductibles and access to preventive health options early on to connections to a vast array of specialists as we get older, the St. Luke's Health Plan's got you covered.
A strong network of doctors and pharmacists.
Out-of-network costs can chip away at employees' bank accounts. That's why a trusted network of physicians and pharmacists is such a big deal—ideally, your employees should work with medical professionals they already know. Not only will they feel more comfortable, but they'll also enjoy continuity of care that can be so important when managing ongoing issues.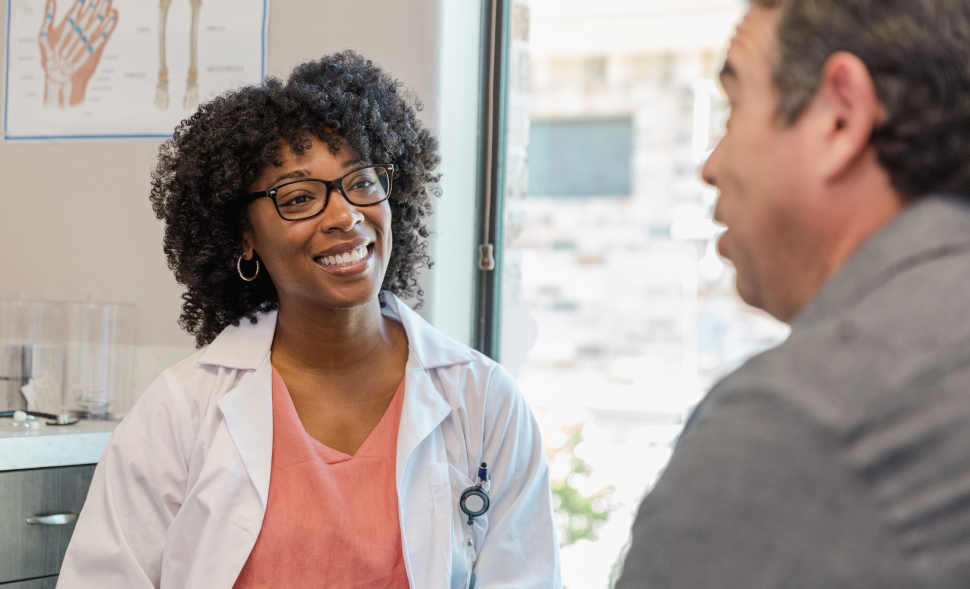 The St. Luke's Health Plan has more than 4,000 physicians and practitioners working in Idaho. Two-thirds of the network is made up of independent physicians, so you can usually see the doctor you want to see. And when it comes to pharmacies, nearly every major chain and independent pharmacy in all 50 states are within our network.
Care that works with workers' schedules.
Employees are expecting flexibility in nearly all areas of their work lives, and scheduling is near the top of the list. With St. Luke's Health Plan's virtual care options, your employees can schedule medical care at a time and place that works best for them. St. Luke's Health Plan also connects your employees to in-network doctors in Idaho through On-Demand Virtual Care, available seven days a week. On-Demand Virtual Care practitioners connect with patients' regular doctor to coordinate additional care. With flexibility like that, it's no wonder our virtual care services have earned a 96 percent satisfaction rating.
Fantastic customer support.
Let's face it: health care brings up a lot of questions. It's important your employees get answers when they need them. Our customer service department is available by phone and email so your team doesn't have to spend hours on hold listening to the greatest hits of the '70s.
Lots of $0 Costs.
There are benefits. And then there are $0 cost benefits. We've stacked up some of the best for your employees: $0 in-network primary care physician visits, $0 in-network preventive care, $0 in-network maternity care, $0 preventative prescription drugs and $0 preferred generic drugs on most plans.
24/7 information.
Your employees will gain access to our Member Portal, and so will you. From there, you can check information about your investment in your team's benefits—anytime, anywhere.
You've Chosen a Carrier. Now What?
Choosing a carrier is step one. Next, it's time to get down to the nitty-gritty details.
Know your requirements.
What do you need to offer your employees? The federal government breaks it down this way:
Businesses with 51+ full-time employees must offer health insurance to 95 percent of them.
Businesses with 50 or fewer employees are not required to offer health insurance but the market demands it. St. Luke's Health Plan can help meet that demand.
Employers are not required to provide health insurance to part-time employees (those who work fewer than 30 hours a week or 130 hours per month) or contractors (even if they're full-time), no matter the size of the business. However, St. Luke's Health Plan can structure an option that covers your part-time employees too.
If your business has 51+ full-time employees and you don't offer coverage, you could be at risk of penalties that are indexed to inflation—yikes!—and currently run to thousands per employee. If some of your employees are part-time, St. Luke's can structure a plan to cover part-time employees too!
Figure out what you can afford.
Of course, you want to offer your employees the moon…but often employers have to reduce benefits and settle for a smaller goal when the budget gets in the way. St. Luke's Health Plan features doctors and insurance on the same team, so you can offer better benefits at a more affordable price. It's a win-win-win.
Note: Remember that the Small Business Health Care Tax Credit can also come into play. Your business might be eligible for this credit if:
You have fewer than 25 full-time employees.
Your average employee salary is $56,000 or less.
You pay at least 50 percent of the premium costs for your full-time employees.
You have enrolled in the Small Business Health Options Program offered by the federal government.
Research the tax advantages.
Both the federal and state government allow businesses to write off 100 percent of the cost of health insurance premiums, which can reduce your overall tax load. Your employees can also take advantage of this deduction when filing their personal taxes.
Consider the needs of your employees.
So, you've figured out what you can afford. You know how health insurance can fit into your overall budget. How do you know which plan will work best for employees? Try looking at their ages, lifestyles, and needs.
For small group employers with less than 50 eligible employees, St. Luke's Health Plan offers easy-to-understand Silver and Gold plans.
Best for younger employees: If your workforce is full of mostly entry-level people with few medical conditions, the Silver Plan should offer the right balance of coverage. The individual deductibles are moderate, yet preventive care services are $0.
Best for more established employees: The Silver HDHP Plan is Health Savings Account-compatible, so employees with families and ongoing health needs can offset the costs of insurance with their HSA. The deductibles are lower, too, with $0 fees for specialist visits after the deductible has been met.
Best for employees approaching retirement: The Gold Plan is the gold standard for employees with increasing medical needs. Gold plans have the lowest deductibles, plus low-cost chiropractic and diagnostic fees after the deductible has been met.
Focus on health and finances.
A great health plan is an important incentive to keep top talent. St. Luke's Health Plan takes the guesswork out of choosing the right coverage by focusing on the two areas that matter most to employees.
Health: Sure, our plans feature quality care in our network, but we also have $0 cost benefits to support those who are healthy and plan on staying that way. At the same time, we also support those who need specialized, critical care (think cancer, maternity, children's health issues) when needed.
Finances: We offer options for everyone, from those who want less out-of-pocket costs because they need more care to those who are willing to take on a higher deductible because their budget is ready to cover an unexpected event.
Schedule an info session.
Introducing your new health plan to your employees takes a little finesse. Gone are the days when employers could hand employees a few paper-stuffed folders—instead, support your team by walking them through their new plan every step of the way. We can visit your office and go over the health plan with your employees. This could be a lunch-and-learn, an info open house or even a series of scheduled Zoom calls. Whatever you choose, this is the time to share benefits materials your employees can download or physically take home. Frontloading information will make the entire process easier, for both you and your employees.
No matter which health plan you choose, your employees will appreciate the investment in their health and wellbeing. Don't forget that you can always contact us for more information. Our dedicated sales team is here to walk you through your options and customize plans to serve the unique needs of your business. You've got this!